Happy Friday Fashionistas! Well ladies, I am back after an amazing birthday last week. My gift to myself: a week of pampering - fancy restaurants, housekeeping services, parties, and a fancy weave to top it off. All of this has led me to believe that I was MEANT to live the high life. Too bad my bank account is holding me back!
For our topic capping off this week's fabulous posts, I have worked some magic to combine Bree's awesome DIY nail polish tower and Charity's manicure maintenance. We are going to cover how to rock THE hottest trend in nails -- the DIY trend!
Ladies, this trend of women innovating amazing nail designs has exploded all over the internet, with hundreds of pictorials and videos populating Youtube, Pinterest, Tumblr, and various blogs. Here are some of the top methods and means to get those gorgeous one of kind nails. Bonus points for being poised in a pinch, because these amazing nails are damn near free using things you have lying around the house! (Unless you buy fresh polish.)
1. Scotch Tape!
Scotch tape makes a great stencil. You are limited only by what shapes you can imagine to stencil. Some clever girls put their scrapbooking tools to use -- think patterned scissors and punches.
2. Needle!
Those super fine lines you would need to draw are sometimes best accomplished with a needle, dragged through polish.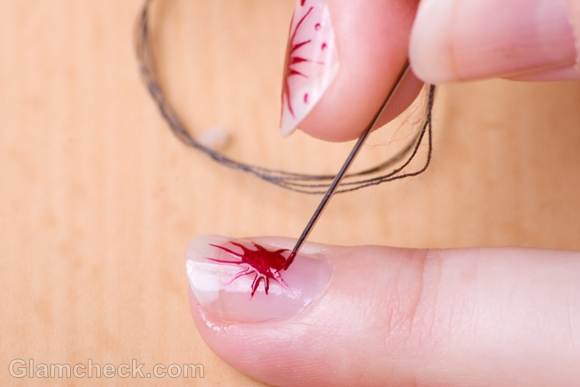 3. Decals
So you can buy decals to place on those nails, but did you know you could easily create your own decals buy cutting shapes out of plastic sandwich bags and then painting them? One clear coat over the plastic, and you have a decal baby! Now go forth and prosper :)
4. Foam Sponge
Sponge painting might be out in home decorating, but it is most definitely IN for ombre nails! Just dip and dab ladies...dip and dab.
Really ladies, this is only the beginning. Get out there and look for yourself! Ladies are using tinsel, drinking straws, cling wrap, toothpicks... you name it. Use your imagination, and yours could be the next pinterest pic with 3,000,000 repins.
Have a nail design to share? Email us or share with us on facebook, and if we love it, we'll share it!

Danni
|
Posted on

Fri, September 13, 2013 at 8:33AM
|

Post a Comment →

Print Article
|

Email Article